Lynne Golodner speaks about storytelling, relationships, and higher purpose to build business, and finding your passion and purpose. Her enriching, captivating presentations include a straight talk, Q&A, and interactive workshops to engage her audience and put words into action.
PAST EVENTS
DO IT YOURSELF P.R.
Tuesday, April 18, 2017
9:00 a.m.-12:00 p.m.
​
During this session, Lynne Golodner will explore the stories being told by each organization and make sure they are specific enough, heartstrings-connected, and inspiring. This will involve exploring the origin of story (which usually ties back to the organizational origin), vision and unique value proposition.
Part lecture, part interactive workshop, we ask strategic questions to guide discussion and activity: Are we telling more than one story? Do our stories paint a picture for internal and external customers that inspires action? Are we achieving messaging success in our connected economy?
This workshop will share best practices that can be modeled and implemented across participating organizations.
Included: hands-on, facilitator-led activities; group brainstorming discussions; and video clips encouraging active learning for all participants.
​
​
Public relations entrepreneur Lynne Golodner, shares tips and advice on marketing, public relations and social media, all of which are driven by the notion that people do business with people, so the human interest details behind the business - the stories that led us to where we are today - are imperative for growth.
​
Women Lawyers Association of Michigan 99th Annual Meeting
Friday, April 28, 2017
Crowne Plaza Hotel, Lansing, MI
8:30 a.m. - 5:00 p.m.
​
Lynne Golodner will present her 2012 book titled, "Stand Out From the Crowd," from 2:15-3:15 P.M.Participants will walk away armed with new knowledge and a clear understanding of how storytelling and relationships propel business growth when you do it with integrity and with the right people.
DOWNLOAD LYNNE'S MEDIA KIT PDF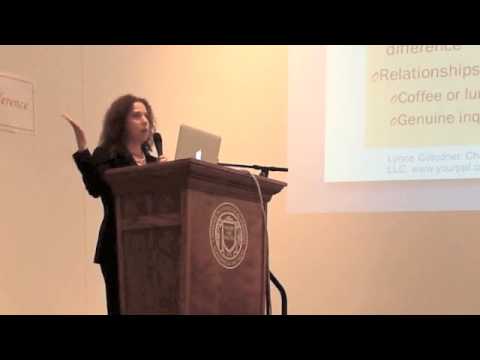 Lynne Golodner at the 2012 Women Entrepreneurs Conference
Invite Lynne to speak to your group!